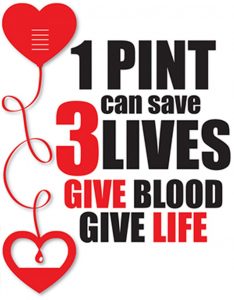 In order to support a member of the Junior League of Salt Lake City who is battling cancer, along with the 8.5 million women around the world fighting cancer each year, we will be holding a blood drive with ARUP.
Please sign up to donate. You could save a life!
Did you know?
1 donation can potentially save 3 lives.
1 in 3 people will need a blood transfusion in their lifetime.
Every 2 seconds someone needs a blood transfusion in the U.S.
Give Local, Save Local.
Remember to come well hydrated and bring your photo I.D. The drive will be open between 2pm and 7pm, but everyone is required to make an appointment for a specific time slot.  Appointments will take approximately 30 minutes.
If you cannot make it on April 9, you can always schedule an appointment to donate with ARUP at their facilities in Sandy and Research Park.