Become a Friend of the League!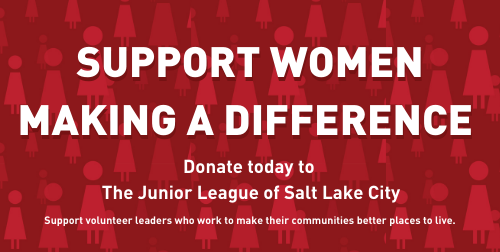 This year, as we launch our annual Friends of the League campaign, we ask you to consider a contribution to help us continue our important work. We are guided by our vision of identifying needs and creating positive change for all women, children and families through the creation of collaborative programs that impact the Salt Lake community. In order to accomplish this vision, we rely on fundraising events and the generous contributions of individuals like yourself.
By making a tax-deductible donation and becoming a Friend of the League you are providing opportunities for women to develop skills and acquire leadership and training experiences. In turn, this training is used to create positive impact in our homes, our businesses, and in the community where we volunteer our time. Donations help fund mini-projects which are carried out in partnership with local community organizations, and ensure that we are able to maintain our headquarters building, which also houses our Women Helping Women clothing boutique. The boutique provides work-appropriate clothing, free of charge, for women who are entering, or re-entering the workforce.
As we near the end of 2020 and look ahead to next year, we do so with hope and excitement to continue our important work. Thank you for being an advocate and champion of civic and professional leadership development for women. Thank you for supporting the Junior League of Salt Lake City and its projects. With donations from our Friends of the League campaign, we ensure that the critical work of the Junior League and the positive impact it has on our community continues.
With thanks and gratitude for your support.
$50 Helps fund done-in-a-day service events
$75 Helps pay for quality speakers & trainers
$100 Sponsors a Junior League member's dues
$1,000 Pays for all costs to send women to executive training conferences