5 More Benefits of Volunteerism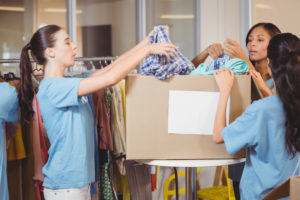 We took the occasion of a previous blog post to list five benefits of volunteerism. Our goal was to encourage readers to volunteer themselves to the local chapter of the Junior League, one of the leading sources of women's volunteer opportunities in Salt Lake City. This post picks up where that one left off with five more reasons.
Note that the previous five reasons explained how volunteerism can benefit you, as the volunteer. Now let us talk about how your efforts can benefit others. While volunteerism is definitely good for you, it is better for those who benefit from what you have to give.
1. Volunteerism Meets Unmet Needs
At the top of the list is the reality that volunteerism helps to meet unmet needs. As an organization focusing on women helping build a better community, most of what we do directly impacts women, children, and families whose needs would otherwise go completely unmet. Take our annual CARE Fair for example.
This two-day event is the largest FREE medical fair in Utah. With the partnership we've created with the University of Utah, we are able to provide routine medical, dental, and vision services to anyone in need. ANYONE. Most of those we assist would otherwise not have access to basic healthcare services due to financial or insurance lack, transportation needs, or other barriers.
2. Volunteerism Provides Tangible Goods
A size-able percentage of volunteer efforts within and without the Junior League provide tangible goods that go to those in need. The many Christmas toy campaigns around the holidays are a good example. Here at the Junior League of Salt Lake City, our Women Helping Women Boutique is an ongoing effort to donate professional clothing to women looking to get into the workforce.
In the last 6 months, we've received 170 new clients at our Women Helping Women Boutique and were able to distribute nearly 2,500 pieces of clothing.
3. Volunteerism Teaches Life Skills
Next, volunteering through organizations like ours gives you the opportunity to teach life skills to others. These important skills equip participants to lead better lives for the rest of their lives. All across Salt Lake City there are volunteers teaching others to read, manage their finances, get a job, etc. The possibilities are virtually endless. At the Junior League of Salt Lake City, we have had numerous past projects that touch on this specifically. We have provided guidance to young children on healthy eating habits, helped women prepare resumes, empowered parents to become informed leaders and advocates for the mental well-being of their children, and many more!
4. Volunteerism Provides Financial Resources
Not all volunteering results in one-on-one interaction. Sometimes it is more about donating time and effort to a fundraising campaign designed to meet the needs of another charity. Over the years, the Junior League of Salt Lake City has raised funds for a plethora of mini projects that benefit women, children and families across the region. As a leading women's volunteer service in Salt Lake City, we have had many opportunities to provide financial resources where they are needed most.
5. Volunteerism Saves Lives
Some cases of volunteerism are a matter of life and death. Simply put, the efforts of volunteers can, and do, save lives every single day. We are deeply passionate about doing so – especially in the context of human trafficking. We believe that bringing awareness to human trafficking will do just that – save lives.
Human trafficking is wrong on so many levels that it is hard to quantify. It is also misunderstood and not brought to the public's attention often. Stopping it begins with awareness. We will not see an end to this epidemic until our community is aware of it. We won't be able to do this alone, but we can join with others in a much larger effort. When you volunteer with the Junior League of Salt Lake City and the many other organizations around the country helping to combat human trafficking, you are making a real difference in the lives of these victims. Your efforts are, in some cases, saving lives.
If you are not yet volunteering but looking for a place to get plugged in, we invite you to consider the Junior League of Salt Lake City.