5 Benefits of Volunteerism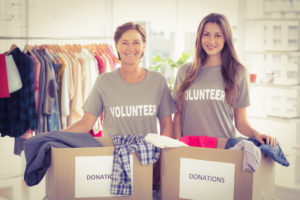 The community of women that make up the Junior League of Salt Lake City thrives on volunteerism. As a charitable organization, we could not do what we do without the volunteer efforts of the thousands of women who have come alongside us over the years. We are essentially a group of women that help build a better community. How do we do this? We do this by training our volunteers to be civic leaders and doing so by giving them the training and opportunity to lead large community projects that create lasting change.
Needless to say we aren't shy about asking for help. If you've never volunteered for a charitable organization before, we invite you to consider doing so with the Junior League. Need a few reasons why you should volunteer in the first place? Check out the following five benefits of volunteerism:
1. Volunteerism is Linked to Happiness
We all seem to live happy lives, don't we? Well, guess what? It turns out that volunteerism has been scientifically linked to happiness. According to a study done by the British Journal of Industrial Relations, people who demonstrate greater levels of happiness and more job satisfaction are also likely to be volunteers.
This doesn't necessarily mean volunteering will make you happy, but the link is there, nonetheless. We see it ourselves. The simple act of helping others creates feelings of happiness. The more often you do it, the more often those feelings are experienced.
2. Volunteerism Offers Purpose
Do you ever have those days when you feel like you are doing nothing more than running the rat race to make money and pay your bills? If so, you're not alone. Volunteering offers vital help to people in need, but the benefits can be even greater for you, the volunteer. Whatever your age or life situation, volunteering can help take your mind off your own worries, keep you mentally stimulated, and add more zest to your life.
3. Volunteerism Expands Horizons
Next, volunteering tends to expand one's horizons. At the Junior League, we don't just volunteer in our community. We give you, the volunteer, an opportunity to grow personally and professionally. We cannot tell you how many times we've welcomed women on board who have made it abundantly clear that they don't believe they have the skills in the areas in which we need them the most. But that's okay, because we give members an opportunity to learn new skillsets and valuable job skills.
Volunteering will lead to a broadening of your horizons by teaching you things you never knew before. You'll learn new skills, new ways of doing things, new philosophies, etc. You'll become a more well-rounded person for having committed to volunteering.
4. Volunteerism Sets an Example
Another great benefit of volunteerism is that it sets an example that others can follow. There are many in our community who want to make a real difference but don't know how. You run into them every day, even if you're not aware of it. By volunteering and then telling others about it, you'll be giving them the guidance they need to contribute. Our goal of seeing as many women helping women as possible is achieved largely by volunteers who spread the word.
5. Volunteerism Makes Connections
Finally, volunteering helps make connections within and without the organization you are volunteering with. Consider that roughly 78% of our membership is made up of women who work full-time. Imagine volunteering with dozens of others who work in the same industry. Then there are others who work in tertiary industries. You can all make connections that could benefit your careers for years to come. That says nothing of the personal friendships you'll develop along the way.
Volunteering is a big part of what makes America the country it is. It's also big part of the Salt Lake City community. Would you consider volunteering? And if so, why not take advantage of the  volunteer opportunities for women at Junior League of Salt Lake City has to offer ?